1 Year Access RobertCabral.com
BE THE VERY BEST DOG TRAINER.
LEARN TO UNDERSTAND ANY DOG.
There isn't a course like this - ANYWHERE!
The perfect online course for serious dog trainers, shelter volunteers and more. Learn all my trade secrets in this course.
4 EASY PAYMENTS & INTEREST FREE options available at checkout.

Click on the course to get STARTED TODAY!
Sign up with confidence - Risk Free Money Back Guarantee
If you are not fully satisfied with this course then you can request a full refund. As long as you issue the request within 7 days and under 10% course completion.

GROUP DISCOUNTS AVAILABLE FOR - MUNICIPAL SHELTERS, SPCAs, AND HUMANE SOCIETIES
Use contact form at the bottom to ask us about the discount options
The Bound Angels Shelter Dog Training Program – NOW ONLINE!
Real
Dogs
Issues
Consequences
Solutions
12+ YEARS • THOUSANDS OF DOGS • HUNDREDS OF STUDENTS
Every dog you see in this course was living in the shelter with no previous training. This is the first time these dogs had the chance to experience training. You'll see the amazing results and how we achieved it with fair, balanced training, using the most basic of tools.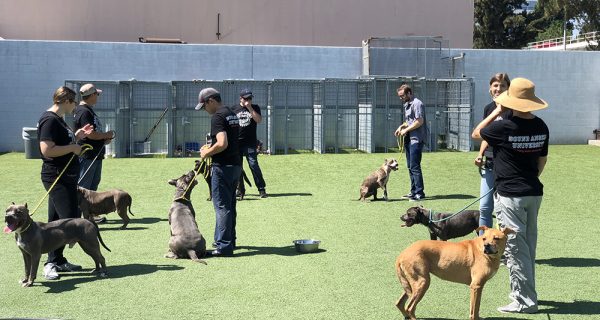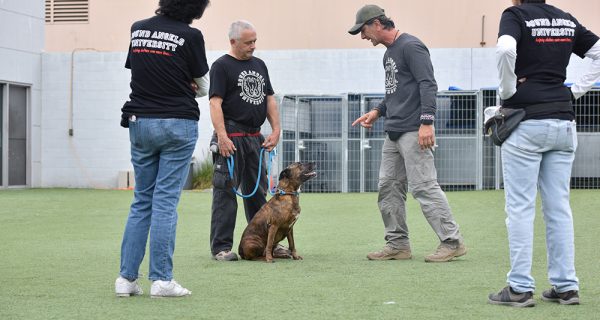 Complete the program at your own pace Videos, Lessons & Downloadable PDF Manual
This course covers nearly every aspect of dog training, behavior and engagement using shelter dogs trained in an animal shelter. Anyone training or handling dogs will benefit greatly from this real world, common sense, practical, hands-on knowledge.
60+ Classroom Lecture Videos
Over 12 hours of classroom lectures containing theory, training outlines, breed behaviors & characteristics, how to's, Q&A, safety, practical knowledge and more.
80+ Dog TrainingDemo Videos
More than 13 hours of hands-on dog training demos, narrated videos showing dog training from basic – advanced behavior. Problem solving, dog to dog interactions, engagement, playgroups & more.
The complete downloadable PDF manual of the entire course. Plus quizzes in each section to test your knowledge as you go along. The course allows you to work at your own pace, as slowly or as quickly as you like.
What experts say this course
As the General Manager of the City of Los Angeles Animal Services for the past 6 years, I can categorically recommend Robert Cabral as the best trainer of shelter animals I've had the privilege to work with. Robert has worked with LA Animal Services over the past ten years and has received enthusiastic endorsements from my predecessors. Robert has demonstrated for over a decade that he has both the understanding and ability to transform the way shelters work with behaviorally challenging dogs. I've personally witnessed the transformation that Robert has been able to make with some otherwise difficult dogs.
Robert taught staff and volunteers about his programs and how to identify rehabilitatable dogs that previously would have been euthanized. With Robert's expertise and guidance, we were able to get an actual assessment in a shelter setting and begin rehabilitation on these dogs saving more lives. Robert's compassion for animals, his assistance and patience with me, helped transition a municipal kill shelter into the new age of sheltering with it's ideals and focus on saving more lives. We are making lifesaving unprecedented strides in Ventura County and I thank my friend, Robert, for assisting in our transition to No-Kill.
Robert Cabral is an extraordinary individual who "walks the talk" of helping the dogs in shelters. Robert relates well to the staff and volunteers as he walks them through the instructions he provides on how to handle the dogs better and to increase desired behaviors and decrease the undesirable ones. The dogs showed marked improvement within minutes of working with Robert. We all took away so many dog training and handling techniques from this workshop.
Thanks to the trainings I acquired by attending your three day course, our agency has since implemented policies that allow for canine playgroups. For nearly a year now we have seen many of the benefits of these practices (both with staff and animals in our care). MACC has noticed a reduction of the stress levels in dogs. This has produced a decrease in a lot of the common illnesses found in shelter animals. Thank you for the common sense compassion that Bound Angels University emphasizes and your mission to help shelters save more lives.
Robert's compassion and dedication radiates through his keen ability to understand canine behavior. This in turn has helped the well-being of many dogs during their stay with us at the shelter. The training techniques that we are now utilizing have proven to be invaluable as they have prepared our dogs for "home life" and by virtue, has increased our adoption and retention rates.
Kennel staff and management found the "dog specific training to be eye opening, and realized that none of these dogs are un-trainable. To see each of the dogs from SPARC that you used as demonstrations respond so well and quickly reminds each of us that we can accomplish what other facilities think is impossible.
Robert is an animal behaviorist extraordinaire. His approach is very different from conventional trainers in that he is able to pinpoint a dog's core issues directly and solve them. He rescues and rehabilitates animals with difficult behavioral problems from municipal animal shelters; skillfully and compassionately transforming them into loving companions…
We commend Robert Cabral, Bound Angels for his exemplary approach toward helping LA Animal Services… Robert's extraordinary expertise is uniquely found in his ability to turn "un-adoptable" pets into adoptable pets. He works on our tough cases with amazing rehabilitation techniques… Their transformation under his compassionate direction is truly remarkable.
Your techniques speak for themselves… The staff is more comfortable and secure with their dog handling skills. It has been a 100% positive experience. The training has lessened the number of dog bites with the staff and volunteers, reducing workman's comp exposure and helping protect our agency.
Classroom Theory Lectures
Hands on Training Demo & Breakdown
Available to download and print after completion of the Shelter Dog Training Course
Most frequent questions and answers
This course is designed specifically for those who work as dog trainers, wish to become dog trainers, especially those who work with shelter / rescue dogs and those looking at learning more about canine behavior as it relates to dog training.  The material in this course has never been seen before and contains more than 10 years of content of Robert's work in animal shelters.
No, the course is open to anyone who loves dogs and wants to be a better dog handler, trainer or advocate.  However, if you work in a shelter or with shelter dogs you'll benefit greatly.
The course contains about 24 hours of materials.  This includes video lessons, reading materials and tests.  You can do the course at your pace, redo sections or the entire course if you like.  The key thing is to take your time, absorb the materials and don't rush!
No, because we're training dogs in a shelter environment, we see numerous different breeds, drives and temperaments. You 'll learn the skills to understand and work with a wide variety of dogs and behaviors.
Although we address the use of many different tools, the entire course is held using only slip leads on the dogs, no collars during playgroups and a few specific tools to manage the playgroups.  The course does not cover the application of Ecollars or prong collars.  If you're interested in learning about these tools, please visit: RobertCabral.com
You do not need to have a dog to complete the course.  I recommend that you take the course and complete it before going out and applying what you've learned on a dog.  There are lots of video lessons, lectures, reading materials and lessons to absorb that will help you better understand the dynamics of dealing with shelter dogs.
Yes, we do.  Please use the contact form below and include your information and how many people you would like to enroll.  We're happy to help you save more dogs!
Louis was like a brother to me, a confidant, mentor and a best friend. We often joked that we knew each other since God invented dogs. We laughed so much, oftentimes to try and overshadow the pain that we felt for these poor dogs that we tried to save. We cared for all of them…  ALL of them. There were some that were more special than others, some that tugged our heartstrings as you'll see, but all got some love.
Louis had a gruff exterior, but inside he was a softy. He knew more about dogs than anyone I'd ever met, particularly the most complicated shelter behaviors. He could read a dog within the blink of an eye and he was never wrong. I learned more from him than any book, video or seminar.  
Lou was my brother, my mentor and my friend. I'm forever indebted to him for his teaching, friendship and support. I miss him and am reminded of how much I miss him whenever I see a shelter dog. Even though Lou isn't with me in person, his spirit stays with me whenever I work with dogs!  
Godspeed my brother… till we meet again at that great big shelter in the sky!
The Students of Bound Angels
This course was taken from the Bound Angels University Program. The students who participated in Bound Angels University made it amazing, and I am forever indebted to them for their passion to save more shelter dogs. You'll see some of them in the video lessons contained in this course. These students came from all over the US and came with an empty cup. Some were already proficient handlers, others were green. They all brought their hearts to the course and each and every one made this course better. They were humble when it came time to learn and left with knowledge that they then gave freely to help save dogs in their shelters, rescues, humane societies and everywhere.  
These men and women took their sweat and tears and converted it into a passion to employ life-saving techniques to change the picture for an animal that had NO-ONE else. Suddenly these dogs had a friend, an advocate and a trainer! Where others gave up, these students stepped up! They made the choice to bring structure and love to a throw away dog and I am forever indebted to each and every one of them for taking my dream, and making it a reality! I am a better person because of the students of Bound Angels University!
Thank you to all of you!
© 2022 Robert Cabral.  
This website and all content including, text, photos, videos & logos are protected under U.S. and International Copyright Laws.  
No portion of this website may be reproduced without the expressed written consent of the author.